Want free recipes and tips for a plant based lifestyle?
Sign up with your name and email below:
"Plant curious but don't know how or where to start? Start with For Fork's Sake! Rachael will guide you from a SAD to HAPPY way of eating with her 10-day program, helping you successfully shift to a compassionate, sustainable, and healthy plant-based diet. Don't worry, eat HAPPY!"
"Informative and personable, with laugh-out-loud moments, Rachael Brown shares how her family transformed its way of eating from SAD (the Standard American Diet) to HAPPY—(Healthy and Plant Powered Yay!) and how you can, too, without breaking the budget or having to become a kitchen diva. What the Fork offers not a fad diet requiring rigid adherence to a plan that you'll abandon once it becomes dull or inconvenient, but a friendly guide for practical, healthful eating that you can apply at the family table, in school lunchrooms, at work functions, on vacations, and in social gatherings. Whether you want to make changes for personal health or for the sake of the planet, here is a down-to-earth, lifelong approach."
Ann Eatinger, Nutritionist (B.S. Nutrition)
"This energetic book is a playful and passionate guide to personal change and is rich with the tools and tips you need to be successful on a whole food, plant based program. Change for you own health or do it for the planet, but " For Forks Sake" don't wait!"
"Rachael Brown's book For Fork's Sake can add to your understanding of the starch solution. We recommend you read it, and benefit from the common-sense wisdom presented throughout."
John McDougall, MD
Author, founder of the McDougall Program
Mary McDougall
Author, Founder of Low-fat, Vegan cooking
"If you want to experience the transformative power of a (WFPBNO) diet to heal and sustain health, then Rachael Brown's "For Fork's Sake" is for you. This simple, straight forward guide provides insights on how to navigate the roadblocks, while also providing opportunities to experience the joys of transitioning to this lifestyle."
Dr. LeAnne Campbell
Chief Executive Officer, Center for Nutrition Studies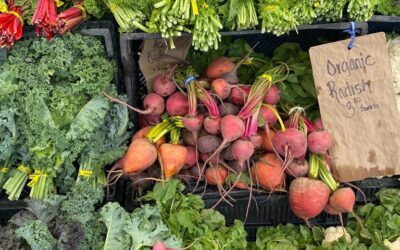 Veggie buying and storage tips: In general, you want to get veggies that look healthy and vibrant, rather than wilted...
read more